Cat's Projects
When not teaching, I am often found trying to improve my skills at calligraphy and illumination. Many of the projects I do, including those seen below, are completed in my role as a scribe within the Society for Creative Anachronism (SCA). If medieval arts appeal to you too, I encourage you to check us out! Click on the small picture to see the whole image. Please note: I retain the copyright to all of my work seen below and on linked pages.
Award of Arms with Queen's Honor of Distinction
Design from a Spanish manuscript, Aragon, circa 1505
July 2009
Order of Gawain award
Design from the Royal Prayer Book, Mercia, early 9th century
July 2009
Countess award
Text by Alexandre d'Avigne and Magistra Rufina Cambrensis
Design from the Ellesmere Chaucer, early 15th century English
April 2009
Order of Gawain award
Design from a commentary of Saint Jerome, English, circa 1120
January 2009
Scrolls from 2008
Scrolls from 2007
Scrolls from 2006
Scrolls from 2005
Scrolls from 2004
Scrolls from 2003
Scrolls from 2002
Scrolls from 2001
Scrolls from 2000
Scrolls from the 1990s
---
I absolutely love drama, both as an audience member and as a participant. Here are a few choice moments:

I am a proud and active member of I Sebastiani, the Greatest Commedia del'Arte Troupe in the Entire World! In the following photos, I'm the one in the dress. That may seem obvious, but you'd be surprised:
| | |
| --- | --- |
| | Isabella swoons over Captain Spavento (in hat), much to the dismay of Oratio. (Private performance, Aug 2000) |
| | |
| --- | --- |
| Ricciolina describes what she's looking for in a man. (Private performance, Aug 2003) | |
Outside of Commedia, I also enjoy scripted theater, especially Shakespeare. In April 2003, I played Helena in a terrific production of "A Midsummer Night's Dream." Here, Demetrius declares his (chemically-induced) love in Act 3, Scene 2 while Lysander, Oberon, and Puck look on. (You can tell we're meant to be together because we're wearing the same color!)
I thoroughly enjoy introducing children to Shakespeare, which is always a wonderful experience. I have directed four performances so far (as well as co-directed a fifth) and look forward to the sixth this year.
First: the mechanicals, all of whom were in grades 1-3, from "A Midsummer Night's Dream," May 1999. From left to right: Quince, Bottom (she just adored that donkey head), Snout, Flute, Starveling, and Snug. (Shakespeare had men playing women. For my Flute, I had a girl playing a guy who didn't want to play a girl. Ah, the modern stage.)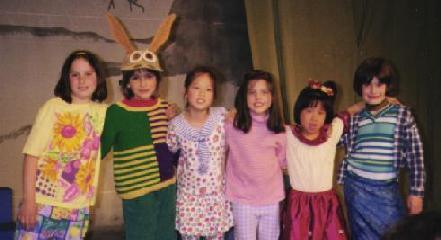 Next, members of my 4th- to 6th-grade cast of "The Tempest," February 2003. They used the original language and were truly superb. On the left, Ferdinand, Ariel, Prospero, and Miranda; on the right, Trinculo (check out the shoes!), Caliban (scurrying away), and Stephano.
---
I also do some other arts, including candlemaking. Unfortunately, I don't have any pictures of my candles at the moment, and my dog chewed up the bottom of one of my better efforts! But eventually I'll take a few photos so I can put them up here. For now, you can return to my homepage.